Naiwa Cliffs Sunset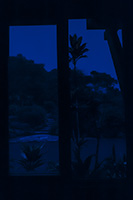 I was awake and ready for the day at 4:30 a.m. Although we do have a few sunrise days that will start this early, today wasn't one of them. I just woke up, so figured it was time for me to get up. This was the first time I really looked out my window and I thought the moonlit view was beautiful. It took me about half an hour and some creative work (that's the name of the workshop, isn't it), but I got the picture. The camera and my photoshop skills still didn't see it the same way I did. Just think of how a moonlit landscapes looks - a pretty, pale blue cast to everything.
After getting the picture, I decided I would take advantage of the beautiful morning and do as suggested the night before. I made my way to one of the outdoor showers just out the back door of the lodge. I figured it was a good time to take a shower, and the running water wouldn't wake anyone else up.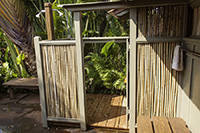 What an interesting experience, taking a shower under the stars by the moonlight. There were also a couple dim lights about 10 feet away (over the sinks) and a battery operated candle in the shower.
As I sat in my room with the window open, it started getting light out. You could hear the world coming to life. I had noticed when I went to bed that I could hear the normal sounds of nature I'm used to (since I live in the country), but hadn't really noticed how silent it had become by morning. As it started getting light out, I started hearing a few birds, then more and more sounds. It sounded so peaceful and tranquil.
sidenote: I had wrote this blog at the workshop Sunday morning (Nov 4th) up to this point. From this point on, it is all being written within a couple weeks after I got back home. I also changed some of what I wrote up to this point. As I expected, it was too busy during the workshop to do a blog the way I like to.
After breakfast, we all gathered on the porch and listened to our leaders, Jack Davis, Rikki Cooke and Dewitt Jones,
talk about their views on life and what we were doing for the day. Afterward, we had a creative shooting class where we learned about motion blur and other techniques we could use for taking photos both with a regular camera and with an iphone. Jack also showed us images taken with his infrared camera.
Through the afternoon, we had a chance to do whatever we wanted. We were encouraged to wander around the grounds of the Hui and take photos, which I did. I even borrowed Jack's infrared camera to experiment with it. I might get one of my old cameras converted to infrared... it's a neat, different style of photos. Before we took off for our evening photo shoot, Dewitt Jones gave another optional talk about his insights about living your life to it's fullest. Dewitt has a great way with words and great insight.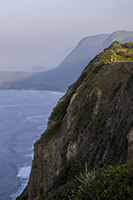 By mid-afternoon, we were off to our first official photo shoot. We were going to the Naiwa Cliffs, some of the highest cliffs in Hawai'i. We drove up a long, rough trail through a lot of trees and dust to get there. When we arrived, it was so worth it. Looking over the cliffs down at the Kalaupapa Peninsula and the ocean was breath taking. We all took a lot of pictures and asked a lot of questions, watched and learned from each other as well as our instructors. Even at this first photo shoot, I remember helping, and hearing other people helping each other. Our class was meant to work together.
After about an hour in this spot, we moved a little further west along the cliffs for a better vantage point for the oncoming sunset. This was a better spot to get photos of the cliffs in the other direction as well as a lush valley. The first car there saw a wild goat on one of the cliffs, but my car was too late to see it. There were often times several of us would all see the same thing to take pictures of...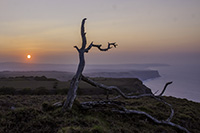 like a dead tree on the edge of the cliff. Although we all took pictures of the same thing, I bet the perspective and style everyone got was totally different. That's what makes photography so much fun.
Once the sun had set and it was starting to get dark, we headed back down the treacherous trail and back to the Hui. When we arrived, dinner was served within minutes and we were all ready for it. After dinner, we watched a slideshow of some of Rikki's favorite photos and then a slideshow of some of Dewitt's favorite photos that he had taken. Of course, they both have so many awesome photos, I don't know how they narrowed them down to the great photos they ended up showing. How awesome is it that we had the opportunity to be taught by these two fantastic National Geographic photographers.
Continue on to A Full Day of Photo Shoots or go back to the Main Page.