A Full Day of Photo Shoots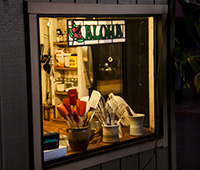 It's Monday morning, I'm up before 5:00 again without an alarm. I got ready for the day and started working on editing photos from the previous evening. As it was just starting to get light outside, I happened to look out my window and saw the light on in the kitchen window. I thought it looked like a great photo, one I could give to the Hui as well.
After breakfast, we had our morning porch sharing again. Shortly after our porch sharing, a little before 10:00, we left for a full day of taking photos at different locations. The first place we were headed to was Kalani's garden in Halawa Valley. On the way, one of the cars got stuck in a line for gas, so the rest of us stopped at Kamalo Wharf where there were a couple boats tied up and just some beautiful scenery to take pictures of.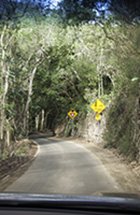 As we continued on to Halawa Valley, the road got narrower and narrower. Before long, it was down to a one lane road in areas right on the side of the cliffs with a lot of turns throughout the whole trip. Again, the scenery was breath taking. We drove slowly and watched for vehicles coming our way. Often you could squeeze two cars through, but there were many areas that if another car was coming, you would have to pull over and wait. Luckily, it wasn't a highly traveled road.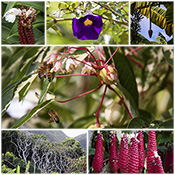 We finally arrived at Kalani's garden just before noon. This was a wonderful place for taking photos. Of course, there are all kinds of plants to get pictures of. We all scattered in different directions taking pictures for the next hour. There was one place I wandered off to, that I didn't notice anyone else go. It was in the back
of the garden, just beyond a little road. Hidden back in there was a little run down, overgrown shack with an old rock wall around it. I thought it was an interesting find. Before we left, the owner made us smoothies with fresh fruit grown right there in the garden. They were delicious.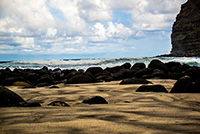 We took a break and had a lunch that the Hui cooks had packed for us. It was fantastic as all of their cooking was throughout the week. Once we were done with lunch, we took a short drive to the Halawa Beach. Rikki said that the recent weather had changed the looks of the beach. I loved the colors in the sand. It had a black and sandy marbled look. The lava rocks all over were interesting as well. I wandered off to the side where all you could see were lava rocks at the base of a tall cliff and got some great pictures there. As I was coming back to the beach area, I was being beckoned so we could get moving on to our next location - hopefully they hadn't been waiting for me too long. :)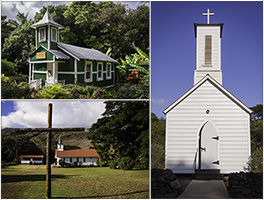 Making our way back in the direction of the Hui, we made several more stops. Three of those stops were at little chapels. Although they were all quaint little chapels, each one had it's own uniqueness to it. The first one was completely surrounded by trees and greenery and was a beautifully painted green structure. The second one was in a large grassy area with trees along one side and the mountains behind it. I don't think the chapel itself was quite as picturesque as the first, but where it was located was just as neat. The third chapel was right up next to the road and had a statue of the founder beside it. This was the most basic of the three that we stopped at.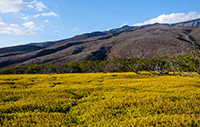 When we were going out to Halawa Valley, I had noticed a yellow field with a bunch of dead trees in it and a thicket of live trees behind it with the mountains as a backdrop. I thought it looked really neat. Rikki decided to stop here on our way back and one of the other students and I went with him over the gate and back into the thicket. Rikki knew of some old dead cars back along a fence line in the thicket somewhere that he was looking for. Just as we got into the thicket a little ways, I saw a pathway I thought looked neat, so I moved over a bit to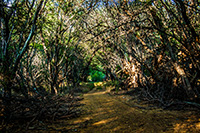 get a good angle as they continued on through - I made sure I could still see them, I didn't want to get lost in there. After I got the shot, I looked over to them and they were quietly calling and waving at me to get over to them and stay with them. I made my way over to them and we quickly got out of the thicket area.... Rikki had seen a couple hunters in there and really didn't want us to be wandering around anymore. I love the shot that I got while I was in there though.

Our final stop for the day was at Kapuaiwa Coconut Grove. A fabulous, picturesque spot. We stayed here taking pictures all the way through sunset. Lots of beautiful coconut trees against the blue sky and the ocean.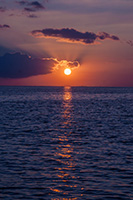 From within the trees, it was actually too many trees. Getting beyond the trees to the small beach, you could see Lanai off in the distance. As the sun was getting a little lower, several of us started having fun playing with silhouettes, which I have always loved. As the sun started getting lower, several of us ventured quite a ways out in to the water. The view looking back at the Coconut Grove was perfect. Finally, the sun started to dip down into the seemingly never-ending ocean with just a few clouds in the sky to give that beautiful sunset. THANK YOU for such a beautiful evening and sunset.
Once the sun had set and we all made our way back to the Hui, we had dinner. After dinner, each of the students got to show off 10 - 12 pictures that we had taken anytime before the workshop started so we could get to know each other a little better. It was fun seeing what photos everyone chose and the different personalities, which we were already seeing after being together only a few days, that each of us had. Then it was off to bed about 9:30 again. A long, full day with tons of pictures to go through tomorrow!
Continue on to Papahaku Beach Sunset or go back to the Main Page.