Orphanage Visit
sidenote: I hope the pages are still working fine and quickly for everyone. Here in China the pages are only coming up about 1/2 the time when we try to go to them and we are having a lot of trouble even uploading them. I think it's just a problem with our Internet Connection here, but that's also why we aren't getting too many photos up... I apologize for that.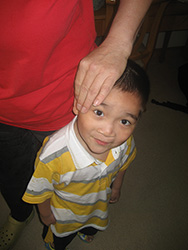 Well, today is the big day.... we get to go see the orphanage that Tyler has grown up in. The trip is a 3 hour trip, one way. We've only had him since Sunday at 4:00 and we'll be back at his orphanage by noon today, just under 6 full days later. Hopefully he does well and isn't too bothered or hurt seeing everyone he has known for years and the place that he has been since he was only days old and then having to leave again. They say that it is good for them and that they usually don't want to stay, but I can't see how that could be.
The morning starts out just like any other. During breakfast, Amy told him that we were going to go back to his orphanage and see his friends and nannies, and then we were going to come back, and he said yes. However, before we got here, he was saying yes he was going to go with us too.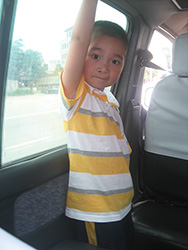 We met in the lobby at 8:00 and started on our long ride to the Jin Jiang Orphanage in Anhai, Fujian. The ride was uneventful as expected. I brought my laptop to work on yesterday's page, Danni brought a book and mom was in charge of watching Tyler. He fell asleep during the trip, but didn't stay asleep the whole time. Since Danni and I were sitting behind him, we would sneak up from behind his seat and 'get' him.
Exactly 3 hours later, we arrive at a doorway on a busy city street in Anhai, the driver says we're there. It just looks like a little doorway to go upstairs to a regular buiding. Amy asked him if he was sure, and he said yes. We get out and Tyler starts leading the way upstairs, he remembers. As we're going up, there are several nannies and workers saying hi to Tyler, they seem so happy to see him. He just goes on up. We arrive on the third floor where there are several other kids his age and older watching tv and playing. He goes in the room and several of the other kids come running over to greet him. He acts as though he's not sure what he should do and never did start playing with them.
The main room is just a plain, wide open room with a tv in one corner and a few seats throughout the room. The building is made of stone and the stairs to go from floor to floor are exposed to the outdoors. We are offered chairs and sat for a few minutes before we were taken to see his bedroom. They told us four children slept in each of the two beds in the room. The orphanage, as most of them, doesn't have heat or air conditioning anyway. We went up to the top level, the fifth floor, with Tyler, the orphanage director and a couple of the nannies to learn a little more about the orphanage. As we came back downstairs we stopped on the fourth floor to see the babies. There were nearly a dozen cribs in a room. The cribs looked like they just had a board for the bottom covered with a sheet, no mattress for softness. We came on down to the third floor where the toddlers stayed. All of the floors except the top floor were layed out and looked the same. One of the boys on this floor had the same problem as Tyler and had surgeries at the same time. We took pictures of Tyler and this other little boy as well as Tyler and some of the nannies here.
Within the next year, this orphanage is going to be moving to a larger location. We saw a picture on the wall showing what the new orphanage is going to look like and it looks like it will be a very nice move for them. It will give them much more space. This orphanage is sponsored by the government... whether that means more or less money for them than be privately owned, I don't know.
It was time to leave the orphanage. They told us to just start walking out and so we did saying bye, we're leaving. Tyler came to us to go with us... no fuss. This surprised us, though I don't think it surprised the orphanage workers. We weren't actually done yet, the orphanage director had offered to take us to lunch and we accepted. We went just a few blocks to have lunch with the orphanage director and two of the nannies. Most of the food was very good... some of it... not so good, but we ate until we were full. It was a style more like we had seen in Beijing, they brought out about 8 different plates of food and we just took what we wanted, as we wanted it. After lunch the orphanage director took us to see the Kindergarten where Tyler has gone for nearly a year. It is Saturday, so there are no students there and it's not open, but we lucked out and a teacher happened to be leaving as we got there. We could see the plain playground and the building from outside the gate, but she let us go in to see it a little closer. Nothing special here, but I think this is the way a lot of the schools are... I didn't see any playground equipment at the school we saw yesterday either.
After this, we went to the ice house where Tyler was found by the front gates 5 1/2 years ago. It's a very small place, but the streets everywhere in this town are very busy, including in front of here. Anywhere a baby would have been left, I don't think there would have been a problem with someone finding them. It's still sad to think that someone could just abandon a baby, but maybe it's for the better in some cases. Families here wouldn't have been able to afford to treat his cleft lip and ceft palate as the orphanage has been able to do. I guess it was a good thing for us that they did, as sad as it still is to think of. After we were done looking here, the orphanage director also left, saying she lived close by and would walk home. Tyler never cried the whole time we were in Anhai. He never talked or did very much at all while we were there, but that is the way he seems to be. He doesn't speak or do much when he's around a group of poeple that are strange and he doesn't know how to act. In this case, he knew everyone, but it was strange for all of us to be together and he probably didn't know how he should act because I'm sure he gets away with a lot more with us than he did at the orphanage. Lesson learned, I guess.... maybe it was a good thing to take him back to the orphanage to let him say his goodbyes, and it was nice to get to see where he has lived his life too.
On our way out of Anhai, we saw several stores that had lots of stone carvings sitting in front of them. The driver said that this was the only place you would find these types of stone carvings, which is what we were actually looking for when we had asked about the stone carvings earlier this week. We went to see the carvings in the mountains, but these were the carvings of all types of animals, dragons and more... what we were thinking of. We stopped to look at the carvings that ranged from small enough to fit in the palm of your hand to giraffes that were 6 feet tall. I still love the floating, rolling balls.... one day, I want to have one of these, but I don't think that the airline would let us pack this back home. :) I tried lifting the ball itself, probably about 2 1/2 foot in diameter made of pure stone... I couldn't budge it. This ball sits atop a pedestal and water is pumped under it causing the ball to constantly be rotating on top of it. We saw these at the jade factory in Beijing and I got a picture there, I didn't get any here, but it's the same thing, just different colors and designs. Once I get those pictures up, I'll try to put it here.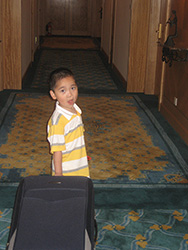 On our way back from Anhai, we stopped and got some more luggage to go on with. For a nice, large bag it cost us 138 Yuan, or about $17.25. When we got back to the hotel, Tyler wanted to bring it in, so we let him. We got a lot of smiles and laughs as he pulled it through the lobby, and then he took it all the way to our room as well. The rest of the evening was pretty uneventful. We have another day and a half here..... and we're pretty bored already. We were thinking that we left for Guangzhou tomorrow and were excited about that because there is supposed to be a lot of shopping and restaurants within walking distance of the hotel, but figured out that we don't go until Monday. That means we will have little time to do extra stuff in Guangzhou... and too much time to do extra stuff here. Oh well, I guess that's the way it goes.
Continue on to On to Guangzhou or go back to the Main Page.
I'd like to welcome you to come along with us by checking out this site every day for updates. You can also visit my mom's web site at http://www.rainbowhorses.com/tyler.html, and I strongly encourage you to join us at our forum to ask questions, post comments or anything else.
Thanks for checking out our page!